Scholarly and Community Advisor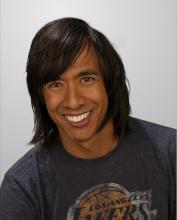 Kip Fulbeck is a pioneering artist, spoken word performer, author, and filmmaker. He has been featured on CNN, MTV, The TODAY Show, and PBS, and has performed and exhibited in over twenty countries and throughout the U.S. 
Kip's solo exhibitions include the Japanese American National Museum, the Field Museum, Invisible NYC Gallery, Space180 Gallery, GhettoGloss Gallery, and the University of North Carolina. He has also shown at the Getty, Smithsonian, Whitney Biennial, Singapore International Film Festival, Sydney International Film Festival, Hawaii International Film Festival, and Bonn Videonale. 
Kip is the author of several books including Mixed: Portraits of Multiracial Kids ; PartAsian, 100% Hapa;  and Permanence: Tattoo Portraits , as well as the director of a dozen short films including Banana Split and Lilo & Me.  He teaches as a professor of Art at the University of California, Santa Barbara, where he received the university's Distinguished Teaching Award and has been named an Outstanding Faculty Member five times. In recognition for his work promoting multiracial awareness, he was awarded the inaugural Loving Prize at the 2009 Mixed Roots Film & Literary Festival and also named a Cultural Pioneer at Harvard University. 
A complete overachiever despite being only half-Chinese, Kip is an avid surfer, guitar player, ocean lifeguard, and pug enthusiast. He is also a world-ranked Masters swimmer and the 2011 Masters National Champion in the 50 freestyle.
For more information, visit www.kipfulbeck.com.
My Contributions
Scholarly and Community Advisor