Scholarly and Community Advisor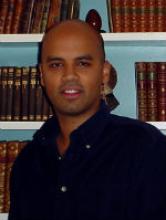 Suleiman Osman is the Director of Undergraduate Studies and Assistant Professor of American Studies at George Washington University. Prof. Osman did his doctoral work in the American Civilization Program at Harvard University. He also has a BA in history from Yale College.
Suleiman Osman specializes in U.S. urban history, the built environment, U.S. cultural and social history, and the study of race and ethnicity, with a particular focus on the way urban space both shapes and is produced by culture and politics. His book Inventing Brownstone Brooklyn: Gentrification and the Search for Authenticity in Postwar New York was published by Oxford University Press in February 2011.
 A history of gentrification in Brooklyn, the book explores the relationship between New York's physical and symbolic cityscapes. Tracing the efforts of a new middle class to reinhabit and restore aging Victorian neighborhoods, Prof. Osman examines how Brooklyn's declining commercial and industrial landscapes were recast as postindustrial sites of anti-bureaucratic authenticity. Prof. Osman is also pursuing a broader project that looks at 1970's urban politics and culture. His recent chapter, "The Decade of the Neighborhood," in Julian Zelizer and Bruce Schulman's Rightward Bound: Making America Conservative in the 1970s (Harvard University Press, 2008) offers an analysis of the "neighborhood movement" of the 1970s and traces the widespread and eclectic revolts against urban growth politics in New York, Boston, and other cities in the 1970s. Prof. Osman is currently teaching courses on race and ethnicity in the American metropolis, American cityscapes, Scope and Methods in American Studies, a course on the 1960s, and several research seminars in urban history.
Scholarly and Community Advisor